CANVAS / TEXTILE / WALLPAPER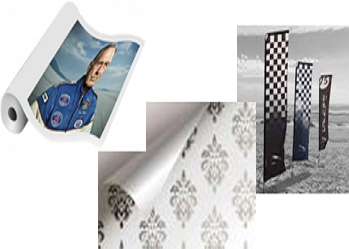 Picasso Canvas is a premium, bright white inkjet coated canvas, designed to produce solid blacks, vivid colours and smooth gradients. Thickness: 370gm Surface: Satin

Cotton Canvas is used for indoor and outdoor advertising. It has accurate colour performance and it is applicable for solvent digital printing and water-based printing. It is also an ideal choice for art picture prints for indoor decoration.

Flag Cloth Material is a semi translucent synthetic cloth, which allows the print to be slightly visible on the reverse side of the cloth. Its high-resolution coating delivers sharp prints and vivid dense colours. It does not have a backing she

K20 is a printable flag material suitable for outdoor use. It has a transparent finish.

K19 is a soft printable fabric, suitable for indoor use. It can be used for picture framing.

Non adhesive printable wall paper. Width: 1,060m